Past Shows
Romeo and Juliet

​The greatest love story ever to be misunderstood in a junior high english class, mildly redeemed by Leonardo DiCaprio, before finally coalescing upon middle aged reflection of a passionate early-adulthood mistake.

​A piece by Jake W Hastey

Featuring Choreography by
Richard Lee
​
Fight Choreography by
Janine Waddell
Propylene Glycol, Maltodextrin, Retinol Palmitate and otherWords I don't Understand Like Love
Contact Jake, jake@toygunstheatre.com, if you're interested in booking performances in your city.
★★★★★
Edmonton Journal
"The choreography is both accessible and WTF? — but in only the very best way."
★★★★
Edmonton Sun
"Jake Hastey is unendingly creative"
Do you remember breakfast cereal before we read labels? Do you remember love before you experienced loss? This show explores loss - loss of love, loss of illusions, loss of inhibitions but this is not an angsty and depressing piece of theatre it is an attempt to find joy in the worst week of your life. Join us on an adventure involving 300 pillows and a bowl of cereal as we journey through a dreamscape that will make you question everything you've ever done with the piece of machinery between your legs.
---
---
Who Am I?
(Unauthorized Stories from the Varscona Parkade)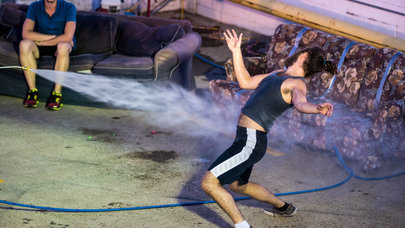 Hey, you! Who are you…? What are you doing with your life…? You should join us at the Varscona Parkade for a show that is basically a realistic drawing of a topless disney princess. After multiple 5 star, held over, and sold out shows last season, Toy Guns Dance Theatre is back and we've got couches… LOTS of couches - some for us to use and some for you. In a contemporary open air arena created on the top level of the Varscona Parkade you will witness the "startlingly creative" work of sterling award nominated director Jake Hastey and the "awe-inspiring vigour and physical invention" of Edmonton's best dance company (vue magazine) Toy Guns.
​This new production explores personal identity through moments of isolation and connection, and you might even see a topless lady ;)
---
---